The Godolphin Club began initially as a provision of public rooms to the locals of Helston.

The Helston Public Rooms Committee was established in 1885 with the building being completed in 1889.
The rooms comprised of a large main room, a billiards room and a reading room with the upstairs hosting a former school room, meeting room and the Godolphin Hall. In 1950 members of the public rooms requested a 'refreshments bar' for the rooms. After the 1961 licensing act the Public Rooms became a 'members club' in order to be accepted by the licensing act.
In 1962 gaming machines were introduced to the club which then provided an income which enabled staff to be employed as well as a reconstruction of a new bar and in 1970 the construction of the extension. This led to an influx of members which reached over 2000 during the 70's. The Club became famous for its Billiards, Table Tennis, Darts and Chess teams and was branded one of the best clubs in the country.
In 1978 Godolphin Hall was converted to the function room and for a short time a nightclub known as The Fusion Bar. Currently we are raising money to once again refurbish our bar and update our facilities to uphold the proud name of The Godolphin Club.
The Godolphin Club is situated on Wendron Street next to the site of the old grammar school (now the car park) amongst many original buildings
.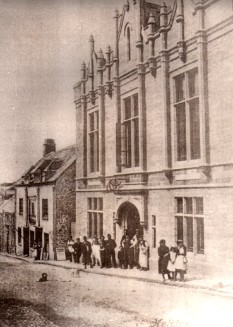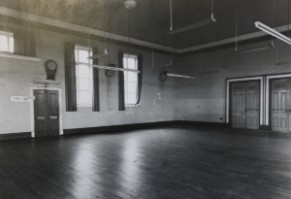 Godolphin Hall (Now the Function Room) in the 1970's before the conversion. The original double doors still remain and in the corner there is now the small bar.